Rawhide Dog Treats Pressing Machines
Introduction
Veterinarians generally do not recommend bones for dogs' molars, because many bones are too hard, the bones are sharp and sharp after biting, and it is easy to scratch the dog's intestine. It can be removed by laparotomy, which is not good for dogs. If you want to grind your teeth, you can let the dog eat snacks made from cowhide instead.
1) It is type of Flour Column and Three Board, the upmost output tonnage is 40t.
2) It can be adjusted among the range of 5t-60t according to the different products` procedures, the purpose is to arrive the best required output.
3) Well, our DR-60T Pressing Machine has two types, manual operation and automatic operation, meanwhile, it can count and timing automatically, safe and protective.
4) In addition, our DR-60T Pressing Machine`s middle plate and lower plate open two-article T-slot respectively, the pressure system is rear-mounted and the below equips with horizontal floor mat.
5) After pressing, the mold plate can be moved outside, so that it could well protect the operator`s safety..
6) Equipped with safety grate protector: While the worker places the rawhide to the mould manually, the protector will check it and forbid the machine to make any action. Only after the worker leave the machine, the protector should allow the machine to start by pressing the two palm buttons.
We also have the relative pet food machine, such as Injection Hedgehog Dog Treat Molding Machine, Pet Food Extruding Line, Dog Chewing Treats Extruding Processing Line, Pet Food Cold Extrusion Machine, Nutrition Rawhide Bone Pressing Machine, Pet Biscuit Pressing Line.
Technical Parameter for Animal Skin Treats Bone Shape Pressing Machine
Machine Photo for Snacks Cowhide Bone Pressing Machine

Sample Photo for Rawhide Dog Chewing Bone Pressing Machinery
Certificate For Rawhide Dog Treats and Bones Pressing Machine
Exhibiton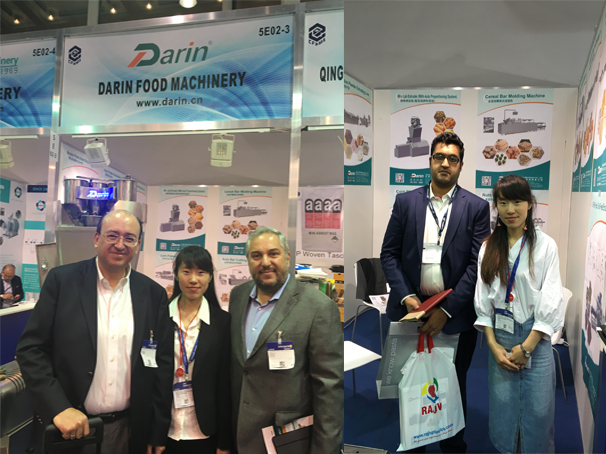 Package and Delivering
Darin Company